Limited to 150 guests per event @ R 30 000.00 all-inclusive packages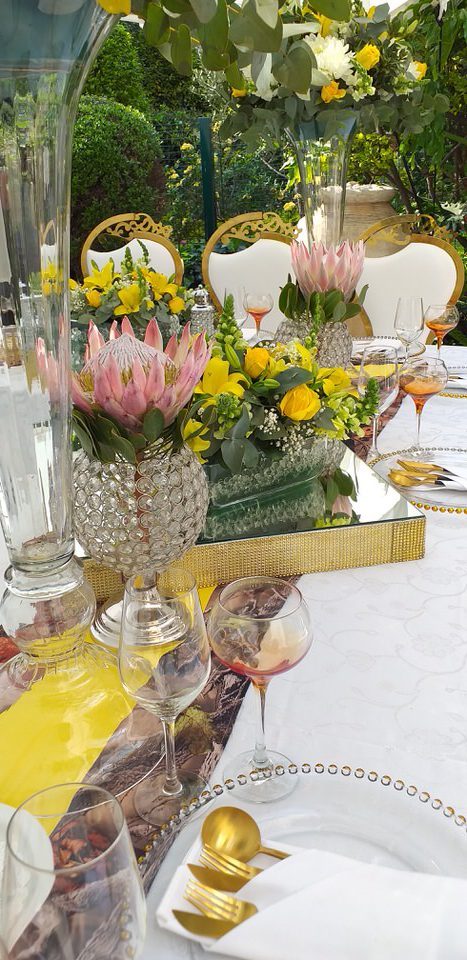 Terms and Conditions
Delivery and Collection are excluded from the package. Fresh Flower arrangements can be arranged at an additional cost. The client will be held liable for stolen or broken equipment.
Matrimonial Ceremony Décor Package excl. fresh flowers
150 x Wimbledon Chairs for the Matrimonial Ceremony
1 x White or Red Carpet
6 x Isle Stands
1 x Draped Arch
1 x Gazebo
1 x Podium
1 x Platform
Reception Décor Package excl. fresh flowers
15 x Round/ Glass Tables
15 x Table Cloths
15 x Centre Pieces
150 x Tiany/ Phoenix chairs
150 x Base Plates
150 x Serviettes
150 x Serviette Rings
150 x Glassware and Cutlery
1 x Main Table Backdrop
1 x Stretch Tent
1 x Green Carpet
1 x Red / White Carpet
Additional Cost (Optional)
Add Buffet Lunch at R 175.00 per person including catering equipment
Add DJ service at R 3 000.00
Add Photographer at R 5 000.00
Our experienced coordinators will make sure everything for your
wedding day is taken care of and will ensure that it is perfect.
We have an in-house florist, with whom you may discuss all your
flower requirements. We offer a selection of menus, from western to
traditional dishes and this is one thing our guests remember
about our venue. We understand our country's cultural diversities
and therefore customize every dish according to the way you want it.
For more packages contact us on 012 323 9107 / send an email to events@rpmevents.co.za